I'm writing this on a TGV train that has just pulled out of Geneva station, heading for Paris over the next three hours. We're at the end of a holiday, having spent a few days in Geneva city centre and then a week with good friends in a chalet in Châtel, just over an hour away from Geneva by car in the French Alps.
Work seems a very distant memory. I've never had a problem in switching off; typically the first day of a break is spent tidying up some loose ends and unwinding but after that I'm all set. On the way down here I had to spend some time reviewing a document and getting it back to one of our vendors but other than that I've not looked at my work email at all. Text messages from the team were minimal, and everything will all be there for me to pick up next week when I get back.
Before I left, I spent quite a bit of time on Monday and Tuesday getting through an email backlog that was a couple of thousand items strong. The team are busy getting things done so I took the opportunity to catch up. I do tend to get to everything eventually, but I'm never able to process all of my emails within a short timeframe — if I did, I would never do anything else. I didn't quite get to 'inbox zero' but made significant headway which was pretty satisfying. Anyway, enough about work for this bumper instalment of weeknotes.
In order to be a little more eco-friendly, and to enjoy the journey to our holiday, we had decided to get the train from Berkhamsted to Geneva. Door-to-door from our home to our hotel took us on three overground trains, an underground train and a tram, and about ten hours of travelling. We're currently travelling at 158mph and despite being still quite a way from Paris we will get there in just over an hour. Both the TGV and Eurostar trains are super fast, but the former are not quite as plush and have an air conditioning system that doesn't seem to cope too well with a hot summer and full carriages.
It has been fun to get the train and despite the additional length of the journey it felt like less hassle than going by plane. All of your luggage stays close to you and it was lovely to be able to get up and wander around. Heading to the buffet car felt a little like being in business class with access to an in-flight bar, with less free stuff but better views.
Genève
Geneva was an interesting place to spend a few days, but I'm not sure I would hurry back. It seemed very functional — very Swiss — but more of a place to live than to visit. That is, unless you have stacks of cash and enjoy luxury shopping for all of the highest of high-end branded goods. We spent some time wandering down the main streets, marvelling at the wares in the windows. Luxuries aside, Geneva is by far the most expensive place I have ever been, and this includes having visited both Zürich and Stockholm in the past few years. Having a weak pound doesn't help, but I don't think it is fundamental to just how much everything costs. We didn't get much change out of £80 for a family meal each night and even filled bagels from a sandwich shop in the city centre cost CHF 18 (about £14). On one of our days out walking we stumbled across a Lidl and made do with a roll and slice of cheese, saving our money for dinner. France is cheaper; not by much for a proper evening meal, but it offered the boulangeries to feed us during the day.
We stayed at the Starling Residence which is a hotel used for training people entering the hotel management trade. This meant it was cheaper than most hotels, but was still around £150 per night. The room was small but quite big enough for us, with a double bed for the adults and a sofa bed for the kids. The air conditioning sounded like the engine of a 747 and seemed to expend most of its energy in making this noise so we stripped the duvets off of the beds and use slept with the sheets. The hotel uses a restaurant next door to serve breakfast to guests that book through their website — this is a little bit sparse with a very basic continental fare and service with not too many smiles. We felt like we were constantly hassling them for croissants as no sooner had they cooked a batch that the basket was completely emptied by the other guests.
To ease the crippling financial burden of dropping in for a visit, everyone staying at a hotel in Geneva gets a pass for free travel on public transport. The city is very pedestrian-friendly and we spent a lot of time wandering around on foot, clutching an iPhone running a walking route on Google Maps1, but it was extremely handy to be able to jump on a tram and head somewhere in double-quick time.
The main tourist attraction is the very straightforwardly-named Jet d'Eau, originally a safety valve for the hydraulic power network but later recognised for its aesthetic qualities. It was quite fun to venture close to it and watch the tourists run away as soon as a gust of wind made it change direction.
The city is really clean and even has various free 'Caninette' doggie-doo bag dispensers attached to lampposts for people to use.
Like any other city they have their fair share of graffiti, ranging from the basic to the impressive. We loved stumbling across the one on Avenue Industrielle in Carouge.
Carouge itself is worth seeking out. We found it on our second attempt and loved the little streets, fountains, one-off shops, cafes and the incredible ice cream parlour selling the best we have ever tasted.
We had a couple of lovely meals out, although both were Italian to make sure that there was something that everyone liked. Luigia served excellent food and had a great modern vibe, whereas Pizzeria Da Paolo was a little more rustic. Our kids enjoyed both of them, especially the latter where they were able to roll their own dough and eat the results once they had been cooked. We skipped dessert at the restaurants to save some cash and bought ice creams from the convenience store near the hotel; it was lovely to find Mövenpick ice cream in the freezer. On our last night we had dinner al fresco at La Cuccagna in Carouge which ended up being a pretty grim experience with clumps of hair in the food and rude service.
A visit to Switzerland is incomplete without getting seriously involved in chocolate. I'd been to Zürich a few times when I worked for UBS and had discovered the Sprüngli shop at the airport. Confusingly similar in name to Lindt & Sprüngli, it is a different business with products aimed at the more luxury end of the market. Remembering how delicious the chocolate was, I suggested seeking out their store in Geneva and my family offered little resistance to my proposal. Sprüngli are famous for their delicious Luxemburgerli macarons. I had seen people buying them by the bucket load at the airport but had been put off by the instructions that they had to be kept chilled and consumed within 24 hours; this was a great chance to try them. We had fun each picking out a couple of different flavours to try. Expensive but delicious.
Wandering along a couple of streets away we then hit the chocolate jackpot by finding the Läderach store. I'd never heard of the brand before, but we were quickly mesmerised by the wonderful giant slabs in the window. Each of the slabs has a unique edible logo on the back to remind you what flavours you have bought. After an extensive sampling session we each bought 100g, with Framboise being the firm favourite with the boys.
But the chocolate adventures didn't stop there. Later in our trip we paid a visit to the Cailler factory, an hour's drive away from our mountain chalet in Châtel. Now very much part of the Nestlé family, the chocolate is nowhere near as good as the others we tried. Apparently the most popular type of chocolate in Switzerland is milk, and it showed from the samples we scoffed at the factory which were very sweet and sugary. Still, it was fun to be in the place where it was made, watching the extraordinary machines and to sample as much as we liked on the tasting tour.
Back in Geneva, we spent a rainy couple of hours at the Museum of Natural History, which reminded me a lot of our local one in Tring in that it was full of stuffed dead animals. Seeing a dodo (or 'Dronte de Maurice' as you might say) 'in the flesh' makes you realise how easy it must have been to wipe them out in a short space of time, and what a shame it was that it happened.
Other fun things in Geneva were a child-powered pedalo ride on the lake, deliberately aiming for the wake of the big boats that went past…
…seeing Geneva from above on the 'Swisswheel'…
…spending £12.50 on 10 sticks of churros with some Toblerone dip…
…and chuckling at the local name for candy floss ('daddy's beard', anyone? Humm, it's good!)
That's quite enough of that.
France
After three days in Geneva had made a huge dent in our funds we set off by car to start the next part of our holiday, a week with our close friends — two other families — at a chalet in Châtel, France. We had the best part of a day between checking out of one hotel and checking into another. Mrs D had done her research and found that there was a local Parkrun 30 minutes north in the French town of Divonne-les-Bains, so it made sense to make an early start to get to the run and then continue around the north side of Lake Geneva/Lac Léman so that we saw a bit more of the area.
I didn't join in with the run but wish I had. It's a lovely flat course around the edge of the beautiful lake in the town. The rest of the family did great, with the eldest boy coming fifth with a time of 19:32 and surprising some of the more athletic-looking adults by how well he did. There were far more English than French people participating but apparently the latter is on the increase.
After a coffee and a croissant in the town we headed east. As we drove I realised that we would be going past Montreux and that there was a statue of Freddie Mercury there, overlooking the lake — the same one that appears on the cover of their Made in Heaven album. Queen had owned Mountain Studios in the town and recorded lots of their albums there. It wasn't far out of our way so we decided to pop down and take a look.
The location was easy to find and handily has an underground car park a few metres away from the waterfront. When we emerged into daylight we found the place abuzz with an event called the Waterings Contest. The main event involved super athletic young men doing spectacular ring gymnastics on the edge of the lake followed by a dive, judged by a number of people in red t-shirts with pens, paper and laptops sat precariously at the edge of a platform. What's not to like?
They had also laid on a free inflatable water slide. Not wanting to pass up an opportunity to do something for free in Switzerland, we hastily found some swimming gear for the boys and set them off.
They also had a dip in the lake where there were lots of free inflatables to jump around on.
I had expected the Freddie Mercury statue to be located somewhere tranquil and quiet but that wasn't the case — it's in a prominent spot on the waterfront and was very busy, with an almost endless stream of people posing for pictures with it. Most people seemed to clutch his microphone stand which means that it is kept shiny whereas the rest of the statue is dark.
At a quieter moment a lady decided it was a good place to sit and look at her phone whilst finishing her cigarette, which she then stubbed out on the base. Some people!
We probably spent a couple of hours at the waterfront and it was lovely to have been there.
The next part of our journey was south-west, up and into the Alps. The scenery en route is stunning and we were all dazzled as we drove back into France and up into the mountains. Pretty Swiss chalets turned into pretty French ones and we soon found ourselves at Chalet Cannelle, our home for the next week.
The Chalet is lovely and dates back to 1808 when it was used as a cowshed. Owners Lorraine and Andy took it over a few years ago and have continued to renovate it in a respectful way, keeping as much of the original doors, beams and walls as they could. It has a rustic, relaxed feel. Lorraine greeted us at the front door and gave us a brief orientation. After a little unpacking we still had a few hours until our friends arrived, so we filled the time by heading out for dinner in nearby Châtel, an alpine town just a few minutes up the road. This was equally beautiful and has some lovely places to eat; I had a great dinner of locally-caught fish at Le Fiacre which made a fantastic change from all of the Italian food we had been getting through.
Châtel itself is beautiful and is a great jumping-off point for going up into the mountains.
We headed back and didn't need to wait very long until everyone else turned up. The kids went a little potty, excited to see each other and to share rooms over the next week. We stayed up late, catching up with everyone after their journey.
It hadn't quite dawned on me how Chalet Cannelle was set up. It is operated on a bed and breakfast basis and it took me a few days to realise that a lot of the time they have different parties all staying in the Chalet simultaneously, with everyone being able to make use of the communal areas such as the huge dining and living room. We had booked the whole place between six adults and six children and I had thought that it would be similar to where we had rented villas together in the past. I knew that the kitchen was out of bounds to guests but hadn't realised that this was primarily because our hosts would be using it for most of the time we were there — I got used to it but it was strange at first to see so much of the owners of the property. Although the chalet has a relaxed atmosphere, it wasn't quite as laid-back as it would have been if we were completely on our own. Sometimes we would put our music on the stereo and occasionally Lorraine and Andy would have theirs on. It took a few days for us to understand what we could and couldn't do, e.g. we could use the dustbins under the sink and get water from the tap even though these were both in the kitchen which wasn't for our use. As our friends were arriving late on Saturday we had agreed to get some basic food in for them; I made a faux pas of getting a case of beers from the supermarket but as it is a licenced premises we weren't allowed to drink them. This was completely my mistake as I hadn't done enough reading on the setup; our hosts were lovely about it. Lorraine and Andy have a good selection of wine on offer for guests which you can take from the lounge minibar in an 'honesty' arrangement; you can buy your own but there is a €5 corkage charge which means it's not worth doing, unless you have bought something really special.
Breakfast was provided to us with a great selection of croissants, pain-au-chocolat, fresh fruit, cereals and muesli, yoghurts and cooked eggs, the latter of which varied every day through scrambled, fried, omelettes etc., topped off with vats of tea and coffee. We'd booked our hosts to cook for us on two of our seven nights; however, after we had experienced the first meal we quickly arranged for them to cook for a third time. They are incredible chefs and the food is completely stunning; it is clearly a passion. I had never seen so many cookbooks as there are on their library shelves and they have even written their own.
Every night when we had dinner there was a little menu on a stand in the dining room which although cute, completely undersold just how stunning the food would be.
Waking up in the chalet every morning to a cooked breakfast was brilliant. Knowing it would be there made sure that we got up at a good time and were able to make the most of the day. It was lovely to see Mont de Grange from the lounge every morning and note how different it looked each time.
Staying at the Chalet meant that we were able to each purchase a hugely-discounted Multi Pass for €2/day/person which gave us access to all of the cable cars and stair lifts, free access to local swimming pools, discounts on activities such as the bob luge and even free access to a local cheese factory.
I had never been on a ski lift before. On our first proper day, after buying our passes, we headed up in the cable car ('télécabine', you might say) to Super Châtel and then used the ski lift ('télésiège', as you also might say) to get up to Le Morclan. I had never used a ski lift before and I was in good company; getting on and off them is a skill and the latter involves getting some speed upon landing to keep ahead of the seats.
All of the ski lifts in the area make very light work of ascending and descending — some of the angles seemed crazy — and we soon found ourselves at the peak with an incredible view, which included Mont Blanc in all of its snow-capped glory.
It was interesting to see the illusion of height due to distance and the curvature of the Earth:
I continued my run of holiday-related health disasters at the Forme D'o swimming pool. When we arrived the kids (alright, well all of us) were excited to find a slide next to the outdoor pool, one where you took a run up, leapt in the air and skidded along as far as you could go. After donning my regulation speedos I started to have fun trying to outdo my two boys for how far I could fling my body along in one go. Getting to the end of the slide after one particularly big skid, I hurried off the end — and promptly slipped on the solid foam jigsaw mat.
It happened in a split second; I remember hitting the floor with my back and the back of my skull so hard. The first thought that went through my head was "Oh my god, you really don't get to know when your time's up." I yelled out and was sure that I had done myself a serious injury, I had never felt such bizarre pain. My eyes were closed and I remember lots of people rushing over saying things like "don't move him" and calling for help. It took me a while to be able to talk back and I remember thinking that I should just let people assess me and look at whether I needed to keep still. One of the lifeguards was very reassuring and held my hand while asking about the pain and after some time had passed helped me to a sitting position, and eventually to my feet. I had a headache and my ribcage felt like I had been in a boxing match; it's still aching even now. Needless to say, swimming was over for the day and the rest of the holiday was spent in degrees of discomfort. There's a reason why people tell you not to run at the swimming pool, kids!
Later in our holiday the swimming fun continued with the man-made lake at Lac des Écoles in Les Gets2. They had a Wibit inflated assault course, a little water slide and a lot of Alpine salamanders in the lake.
We had a spectacular meal at La Haute Bise at the top of Col De Bassachaux, getting there just before the sun went behind the neighbouring mountains. Lorraine kindly booked us a table for twelve and we were glad she did as it quickly got very busy. Despite being just a handful of miles away as the crow flies it took a long time to drive there, down one mountain and up the next via tons of switchbacks. It felt literally in the middle of nowhere, was super-basic inside and served superb homely food. The views were breathtaking.
Gruyères was another delight. Located just around the corner from the Cailler chocolate factory it has a beautiful medieval square inside a castle on a hill.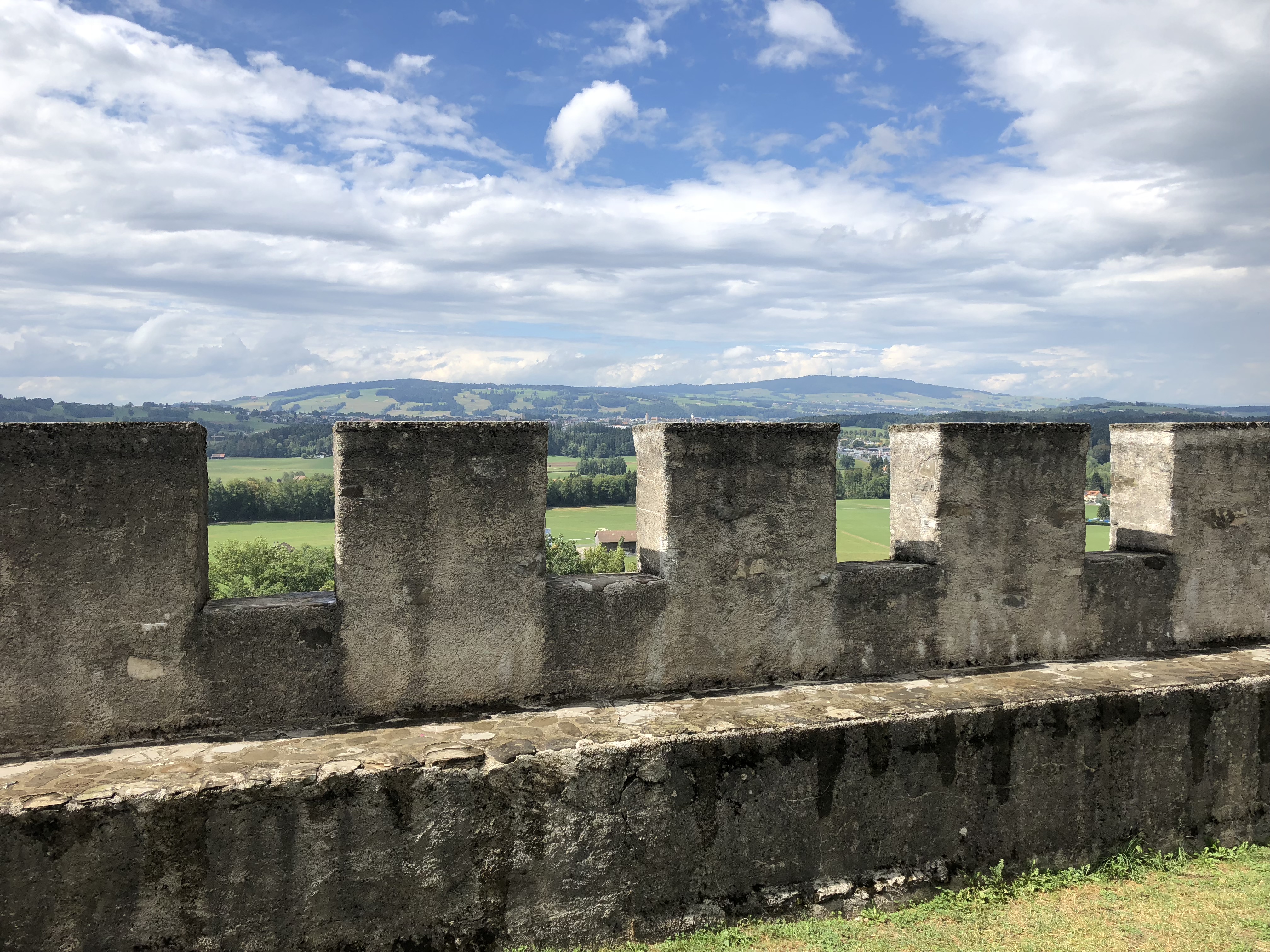 It is also home to a museum and bizarre bar dedicated to the work of H. R. Giger of Alien fame. Disconcerting.
The 'Goat Village' of Les Lindarets was bizarre. After a couple of ski lifts up, another down (where we descended into rain clouds — fascinating but not fun as there was no escape!) and a short walk we stumbled upon a mass of goats in the town square. They roam all over the place and the local shops sell goat food in little paper bags. The goats know exactly where the food is and are pretty aggressive about getting it, resorting to chewing on your coat if they think it will be to their advantage. You had to keep your wits about you as goats suddenly leapt into view, literally butting into conversations, or decided to empty themselves on nearby pedestrians.
All in all it was a lovely holiday, made even better by having great friends with us. Once we'd got all of the kids settled in bed each night we reached for a board game, our favourites being Linkee and the wonderful You Think You Know Me, both of which gave us lots of laughs.
It's great to be on holiday, but it's also great to be home.
Next week: Back to work!
---
From this vantage point in 2018, travelling without a smartphone and a data connection seems crazy. The world is so much more navigable now. ↩
A town which lent itself to entertaining us with nearly endless punnage as we walked down one of its mountains; "Les Gets going", "Les Gets ready to rumble", "Les Gets it on" etc. etc. ↩