A really solid week, but a strange one, with most of the people I work with in South Africa out of the office until Tuesday for a long 'Worker's Day' weekend, and then being out of the office myself from Thursday onwards due to my wife heading off for a well-deserved long weekend in Lake Garda with some friends. I've been working from home and have had to plan Thursday and Friday around school pickups, kids' dinners and bedtimes. Nothing makes me appreciate what my wife does for our family more than the rare occasions when she's not here with us. Having said that, it's been great to have some 'forced' time with the boys and I love being with them. When my wife is here it's a lot easier for me to retreat into a to-do list, but having them on my own means there is little optionality around participating, especially if I want to avoid them being on the Xbox for hours on end.
Friday night my 11 year-old tolerated — and my 9-year old endured — watching Eight Days A Week which I had discovered was free on Amazon Prime. Well-made but a bit of a disappointment in terms of new material to the story. I made up for it by treating them to an IMAX 3D screening of Avengers: Infinity War on Saturday. I've seen some other IMAX movies but I was still taken aback by the size of the screen and the 3D effects, both of which are amazing. The expensive ticket prices look much more worth it when the film is good and you see it as an experience you can't get at home. I've only seen Black Panther in the Marvel series but it didn't feel as though I'd missed out on too much of the storylines.
We've spent most of Sunday in London. Slime London was okay; it's a great idea for someone to capitalise on the latest school craze by bringing together so many people involved with it and selling their wares. (Was there a 'Fidget Spinner London?') The people involved must have been making a fortune. I was glad we got there early as apparently the afternoon before they were literally queuing around the block.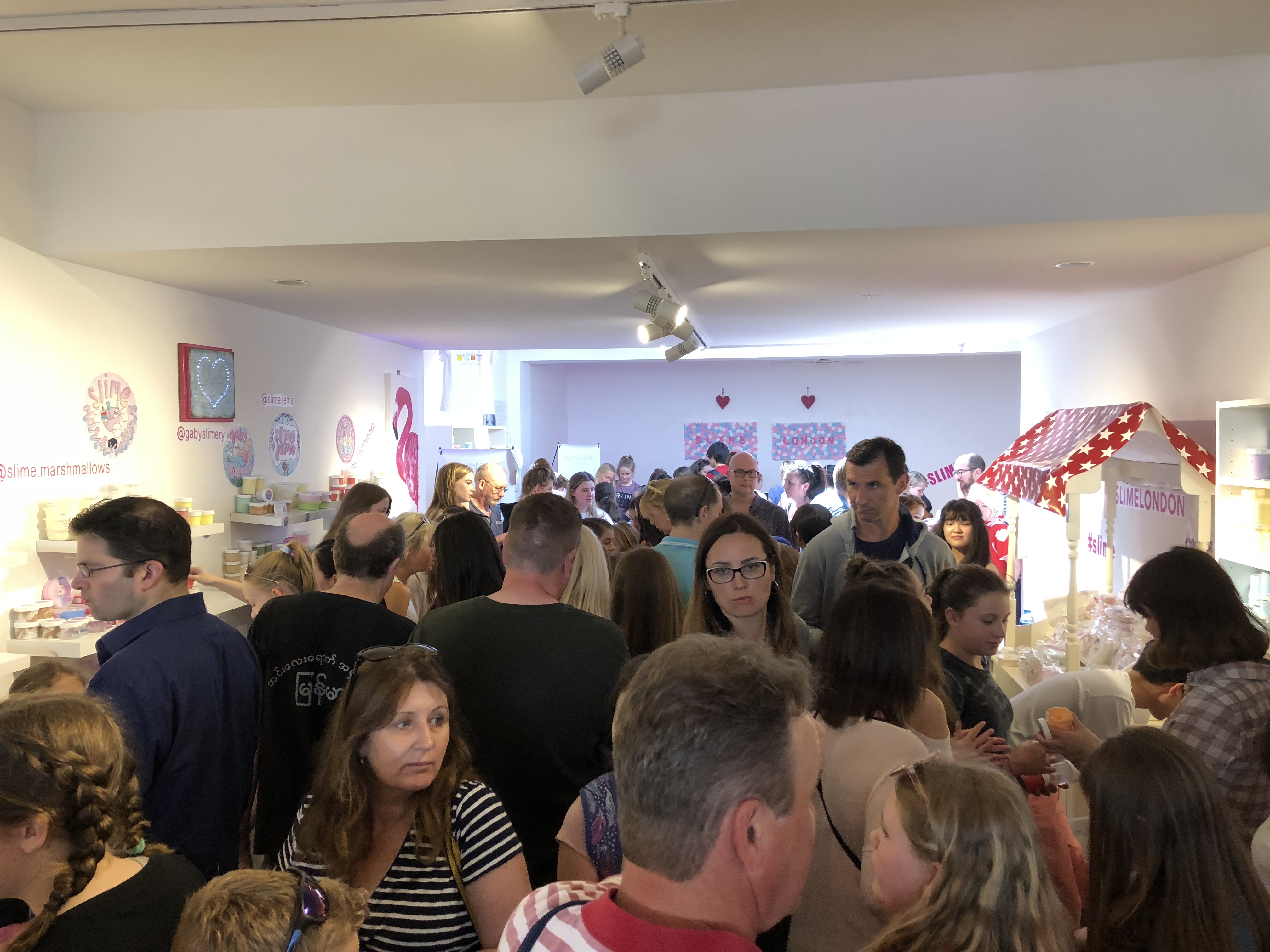 Around the corner from the event we randomly stumbled across a Warhammer store. With memories of the huge Avengers-related battles from the day before looming large in our minds, the big assemblies of battling demons, robots and machines drew us in. We found a highly-tuned sales staff ready to give the boys a hands-on introduction on how you go about assembling, painting and playing a 'proper' game with the models. They even have a kids club in the store at the weekend where you can go in and spend time with the other kids on a big workbench. The world of fantasy gaming has always seemed daunting and impenetrable and the people behind it appear to be fully aware of this; the staff couldn't have been more helpful in explaining how to get started. After much deliberation and a cooling-off period which took us to the South Bank for lunch, ice cream and a wander around the Royal Festival Hall, the boys now have a starter set to keep them busy.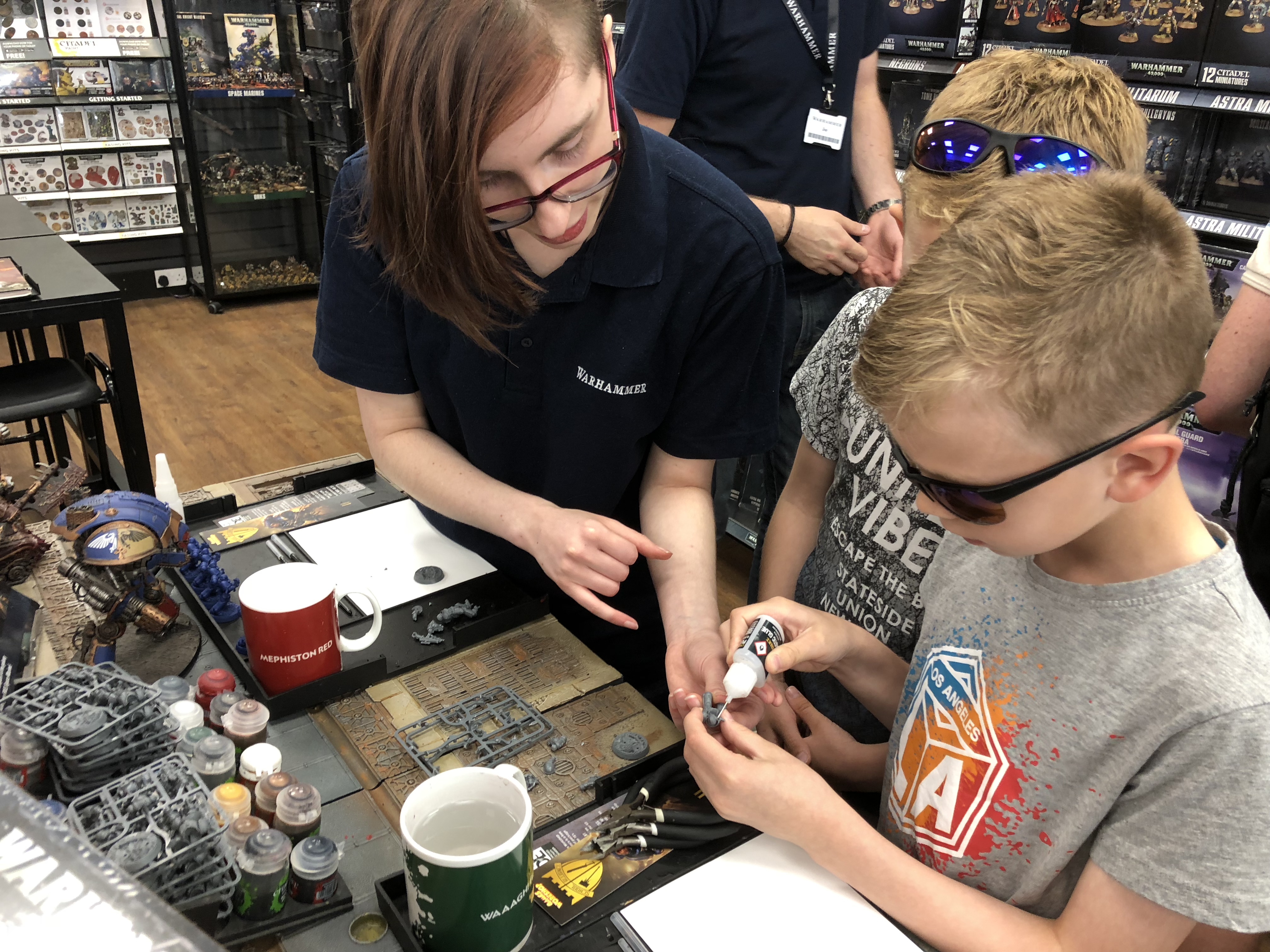 I was hoping there would be some South Asian music and dance at the Southbank Centre but we were far too early. We popped into the Hayward Gallery which is hosting a small exhibition on futuristic visions. Turning the corner into the darkened room we nearly jumped out of our skins as we came face-to-face with a large scary-looking fox in a mirror reciting passages of H.G. Wells' The Time Machine.
Bedwyr Williams' Tyrrau Mawr was also interesting — a 4K digital 'painting' with an audio track that brings the picture (video?) to life.
We've had fun, but I can't wait to see my wife again.
Back in the world of work I find myself wishing that everyone managed their diaries properly. I know I'm not perfect but It's an ongoing bugbear for me that people leave meetings in place when they know they are going to be on holiday. I find myself coming out of the flow with a piece of work because I know I'm talking to person X in a few minutes at the scheduled time, only to find that they don't turn up. Looking ahead and cancelling or declining things is just good hygiene.
Diary clashes have meant that I have had to move out my next programme Steering Committee meeting. This is a blessing as I am hoping that we will be able to go to the next one talking about the things we have done as opposed to the things we are going to do. We had a great couple of key meetings this week which played out exactly as we had hoped, and we're well-positioned to close out our vendor work as well as put together a plan for the rest of the programme over the next week or two.
I loved Matt Ballantine's blog on policies at work. We are having lots of healthy discussion about this at my client's office in the context of IT Security and user behaviour so it is a very timely read.
I had fun running a workshop on efficient strategies for using email (specifically Outlook and Exchange) and had good feedback on it. The session was born out of the fact that some of our users have been struggling to find things since we switched to the new system. The main points of the talk were around how to use the search syntax to efficiently find an email no matter where it is stored, and how most people should be spending time searching instead of filing emails into folders. I am sure that investing time into things like this has a much better impact than so many other things we do.
Small world. A few tweets about Mark Lewisohn whose books I have read since I was a young boy and I find he lives less than a mile from me!

— Andrew Doran (@adoran2) March 12, 2014
A few years ago I found out that I live less than a mile away from Mark Lewisohn. This week I found that I live about the same distance from a multiple winner of the UK National 24h cycling time trials. In 2015 he managed an average speed of 22.4mph to cover an unbelievable 537 miles in that time. The fastest ride I've ever done has probably been no more than 17mph or so for a fraction of the distance, and that was at peak fitness for me which gives it some context. He's now getting ready to attempt the to beat the record time for Land's End to John O'Groats of 44h 4m 20s. There's a great podcast with him that covers his preparation for the attempt; his primary means of training has been to cycle to and from work in Watford and typically does not cover long-distance rides. You can follow the attempt on Twitter. Inspirational.
Next week: Another email workshop, a half-day planning the programme with each of the workstream leads, getting things moving with our vendors and school committee meetings.